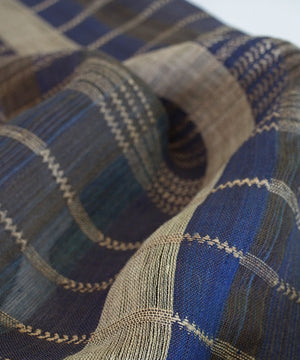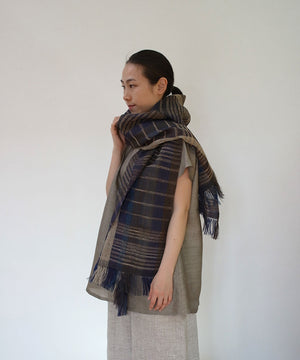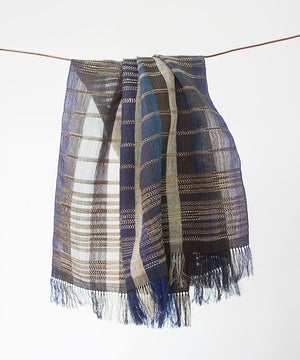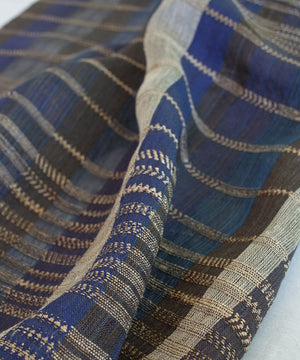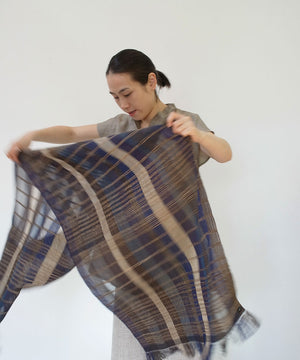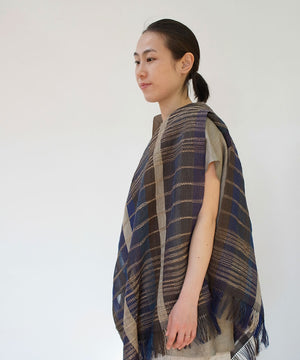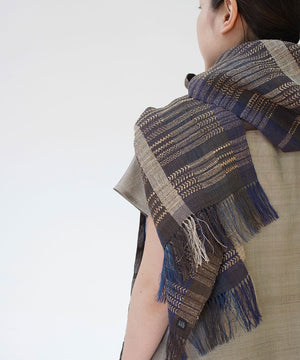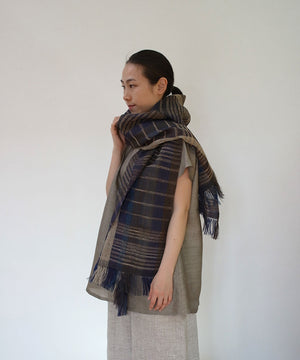 Stole | Shadi, indigo, 2710DB
・Hand spun tussar silk woven with Malda (fine mulberry silk), wool and linen.
・Malda gives transparency, with wool and tussar silk woven into small pattern by jacquard loom.

Size: 60 x 200cm / Material: Silk 52%, Wool 44%, Linen 4% / Dye material: Indigo, Pomegranate, Mehendi etc.     Model height : 158cm (5'2")

–

About the stoles of Maki Textile Studio
All of our stoles are hand-woven with hand-made yarns such as hand-reeled, hand-spun silks using traditional Japanese or Indian techniques. In accordance with an old Japanese method, the silk yarns are not degummed fully before being dyed with vegetable dyes and woven on the hand looms. Although the stoles may not have a 'silky touch' in the beginning, the more they are used, the softer and glossier they become.

About washing - Stole
Dry cleaning only.

Guidance on tariffs
If you purchase products from overseas, customs duty may be incurred. In that case, please note that any customs duties incurred will be borne by the purchaser.

Our online shop shares stock with "Chikurin shop", our actual physical store in Tokyo.
As we adjust the stock from time to time, in some cases the ordered product may be out of stock due to insufficient update.
In the unlikely event that an item is sold out or out of stock, we will promptly process a refund.

About item photos
Please note that item photos may differ slightly from the actual item depending on your viewing environment. Item size may also vary slightly in each photo.