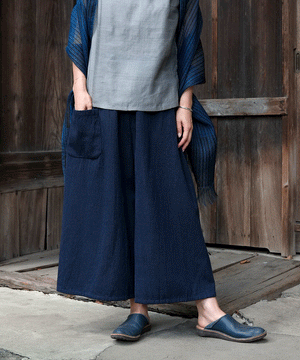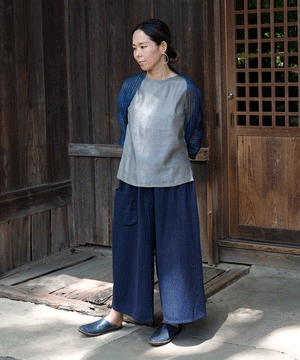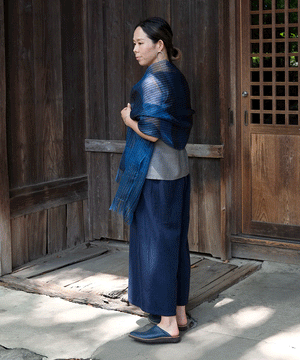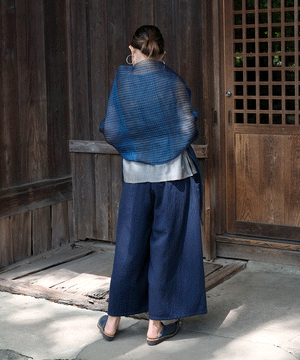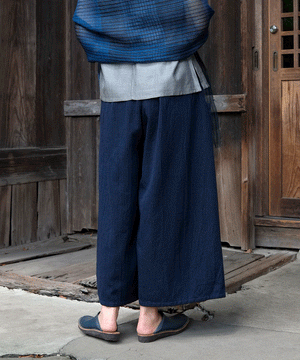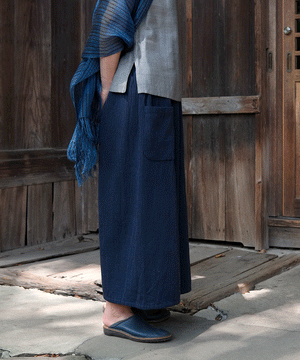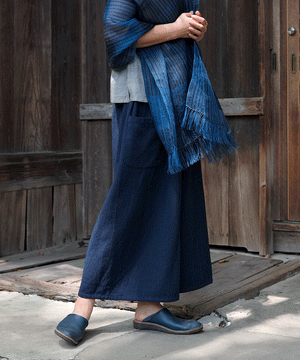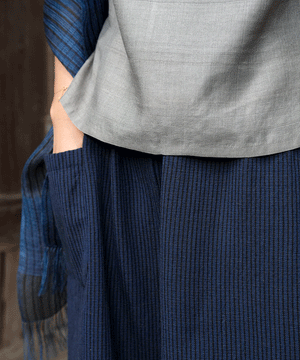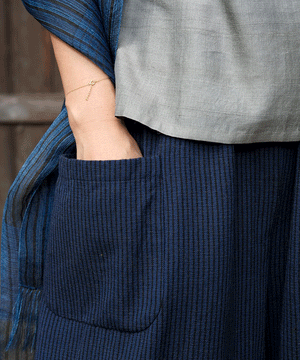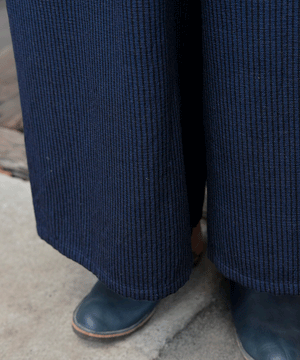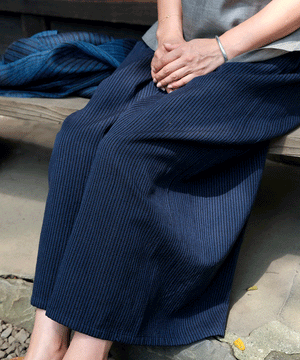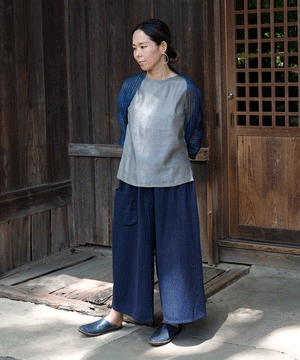 Koti series | Pants, Wool & silk, Blue & black stripe, 6870wGBl
Good for autumn and winter.
By weaving the waist area with floating shrinkable tussar silk nasi yarns, it shrinks when passed through water, creating a moderate waistline.
The texture of the wool and silk hand-woven fabric is comfortable to wear.
It has a patch pocket on the right side.
The blue and black striped design of the koti fabric is dyed with pomegranate for a darker finish.

–

Koti series is Maki Textile Studio's original garments using Koti fabric, woven with high twisted silk yarns that give the shrinking effects on the fabric.
Koti garments are made with as few stitching parts as possible using these Koti fabrics.

–

Size
Length: 86cm 
(33.8"
)
/ Waist: 58cm 

(22.8". 

E

lastic waist pants) / Hem width: 41cm (16.1"
) / 

Material: Wool 50%, Silk 50% / Dye m

aterial: pomegranate / 
Model height : 162cm 

(63.7")
–

About washing
Add a drop of neutral detergent in lukewarm water, hand wash gently pushing up and down, drain off the water using a towel etc., and dry in shade. Drying with a steam iron can give some positive effects on the texture of fabrics. Dry cleaning is also possible. Inform the cleaners the nature of the fabric.

Guidance on tariffs
If you purchase products from overseas, customs duty may be incurred. In that case, please note that any customs duties incurred will be borne by the purchaser.
Our online shop shares stock with "Chikurin shop", our actual physical store in Tokyo.
As we adjust the stock from time to time, in some cases the ordered product may be out of stock due to insufficient update.
In the unlikely event that an item is sold out or out of stock, we will promptly process a refund.

About item photos
Please note that item photos may differ slightly from the actual item depending on your viewing environment. Item size may also vary slightly in each photo.